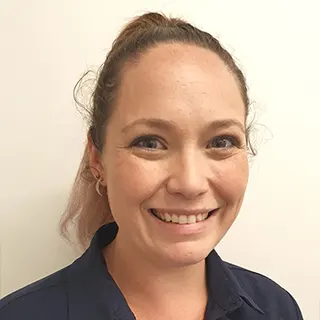 Alicia Scarborough
Clinic Owner
Alicia graduated from Sydney University with a Masters in Physiotherapy in 2011, and started her private practice career with Greater West Physiotherapy (now known as Physio Inq). She worked across the St Clair and Penrith clinics and it was during these years that Alicia really solidified her passion for physiotherapy, and treating musculoskeletal injuries.

After more than 7 years (and 2 children), business ownership was the next step for Alicia, professionally. In 2019, she boldly purchased both the Physio Inq St Mary's and St Clair clinics, doing this in order to ensure a long and satisfying career. Alicia gradually phased herself out of hands-on clinical work, and now spends her time mentoring the next generation of physiotherapists and exercise physiologists, and rising to the challenges of running a business.

With a third baby, it was time for a third clinic, and in early 2022, Alicia purchased Physio Inq Wetherill Park, becoming the first Physio Inq franchisee with three clinics.

Alicia has a special interest in the lower back, pelvis and pregnancy-related issues, and loves treating the complexities that problems in these areas can lead to. When it comes to the range of conditions Alicia has experienced and treated, "variety is the spice of life."

Continuing to learn, and pass on that learning, is an integral part to both being an experienced therapist, and a business owner. Alicia is constantly learning by attending courses and learning off her peers, and this means that all options are available when it comes to the right treatment for any patient attending her clinics.